When people pass away do they send us symbols and messages after death?
An article from Healthy Living on squidoo ~
"Do you think there is an after life? Have you ever asked yourself if loved ones who have passed away give us special symbols? What if people who have died send us signs and messages to let us know there is life after death?
My Father passed away just one day before his eighty third birthday. He lived a full and happy life and enjoyed the company of others.
He had a close friendship and strong relationship with his partner. She loves gardening and Dad helped her with tips and advice over the years, sometimes giving a helping hand to dig out flower beds and planting bulbs and cuttings.
In our garden we have a Peony. This plant had not flowered since we bought it some four years ago.

One week after Dad died we noticed that a single bud had appeared on the plant. It has become the beautiful bloom you can see in this picture. It is very heart warming to think that this is a sign. A symbol from Dad to let us know he is here.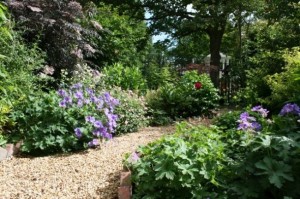 A single red flower. A dot. An accent that can't help but catch the eye in our garden. Thanks Dad."
An excerpt from Amber Spyglass – the book by Philip Pullman ~ 
"Every atom of me and every atom of you…We'll live in birds and flowers and dragonflies and pine trees and in clouds and in those little specks of light you see floating in sunbeams."